BIPSS formally launched Bangladesh Centre for China Studies (BCCS) in Dhaka on 7 December, 2009. President BIPSS, Major General Muniruzzaman (Retd.) made the formal announcement at a reception organised to mark the occasion. The guests included diplomats, policy makers, journalists, academics and senior government officials. The Chinese Ambassador to Bangladesh, H.E. Zhang Xianyi, and Advisor BCCS, Mr. Enayetullah Khan also spoke on the occasion. The new centre will have a dedicated group of researchers who will undertake research on various aspects related to China and Sino-Bangla relations.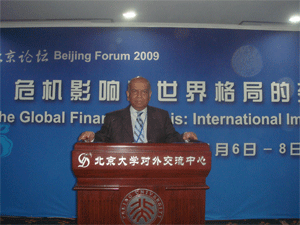 President BIPSS, Major General Muniruzzaman, ndc, psc (Retd) will be addressing the Beijing Forum 2009. The Beijing Forum is a gathering of eminent policy planners and specialists of current issues of global concern. It is jointly organised by the Peking University. This year's Beijing Forum is especially important as it takes place amidst the global financial crisis, a topic which will receive particular attention during the forum. General Munir will also be meeting heads of other think tanks and other eminent participants in the sidelines of the event. He will present on 'Global Financial Crisis and China's Responsibilities'. He will also be interviewed by China Financial Herald on these issues.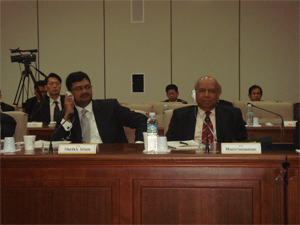 President BIPSS, Major General Muniruzzaman, was invited to address the Beijing Forum in November, 2009. During his visit to China he was interviewed by the influential newspaper, the Global Times. He talked about a host of issues during the interview, starting from US policy towards China, Sino-Bangladesh relations to the possibility of forming G2 and its global implications. The interview was published in The Global Times on 13 November, 2009.
Please click the link to read the complete interview.
The Military Advisory Council on Climate Change (MAC) has released an official statement calling on governments to pay especial emphasis to the security dimensions of Climate Change. The statement was drafted during the recent MAC meeting in Brussels and Genval, Belgium. It may be mentioned that, MAC is a group of twelve senior Military Flag officers drawn from around the world who work especially on the aspects of security dimensions of Climate Change and will also have an advisory in the forthcoming Copenhagen Summit. The statement was released at a joint event of MAC and Brookings Institution in Washington D.C., USA on 29 October 2009. The MAC initiative is also supported by a number of notable international think tanks such as Brookings Institution, Chatham House, Center for Naval Analyses, International Institute of Strategic Studies, Institute of Environmental Security, Woodrow Wilson Centre and BIPSS among others.
Please click here to read the complete statement
President BIPSS Major General Muniruzzaman (retd.) has joined The International Military Advisory Council(MAC) on "Climate Change and The Military: Copenhagen and Beyond", as part of the program on Climate Change and International Security (CCIS).
The formation of the Military Advisory Council (MAC) was initiated by Institute of Environmental Security (IES) based in The Hague and is partnered with Chathan House (UK), IUCN, Brooking Institution (USA), Woodrow Wilson International Center(USA) and others. The group brings together eminent scholars/experts selected from around the world to work on the critical area of climate security and address a number of major issues associated with it. One of the initial main areas of work will be to consolidate and analysethe research findings on the impact of climate change on global security and make a statement/recommendation to the climate negotiators in the Copenhagen Summit in December 2009.

Climate change is increasingly recognized as a major human security issue that poses serious global threats. Events like weather-related disasters, desertification and rising sea level, exacerbated by climate change, affect individuals and communities around the world. Climate change reduces access to fresh and safe drinking water, negatively affects health and poses a real threat to food security in many countries of the world. It is a contributing factor to poverty, and forces people from their homes, sometimes permanently. However, climate change can heighten existing social and political tensions or can lead to new ones. Dramaticenvironmental change undeniably places the infrastructure of all countries to test. But it poses an ever greater threat to developing countries that lack the means, the know-how and the capacity to effectively deal with these phenomena. Impacts of global warming and climate change thus have the potential to challenge our development efforts, human security and the future.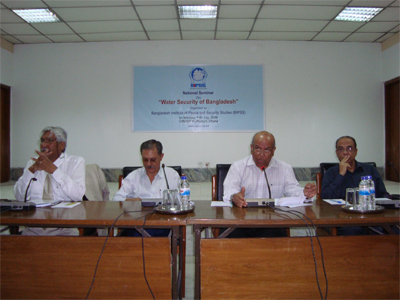 The region of South Asiais densely populated and natural resource constraints, especially water resource, will pose severe security threats to the states. This may eventually lead to conflict in the region.
In light of the above,Bangladesh Institute of Peace and Security Studies (BIPSS) organised a seminar on "Water Security of Bangladesh"on 13 July, 2009 at CIRDAP Auditorium. Prominent water experts of the country- Dr. Atiq Rahman,Mr. Mahfuz Ullah and Coloner Mahmudur Rahman Chowdhury (Retd.)- presented papers at the seminar.The seminar was presided over by President BIPSS, Major General ANM Muniruzzaman(Retd.)
The event waslargely attended by foreign diplomats in Bangladesh,politicians,academicians, members of the civil society, researchers and journalists. Click the links below to download Seminar Papers and Power Point Presentation.
Media Coverage on the Seminar Photo Gallery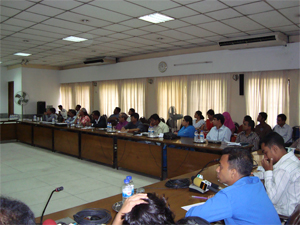 Paper-01
"Water Security in the context of Climate Change in Bangladesh: Decision making at different levels", by Dr. Atiq Rahman
Paper-02
"Water Security: Politico-Economic Considerations ", by Mr. Mahfuz Ullah
Paper-03
"Impacts of Indian River Linking Projects on Water Security of Bangladesh" by Colonel Mahmudur Rahman Chowdhury (Retd), Presentation slide