Short Bio of ANM Muniruzzaman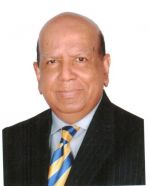 Major General Muniruzzaman (Retd)is a former career military officer who served 38 years in active duty.Commissioned in the Field Artillery,he commanded a Field Artillery regiment and two artillery brigades.He has also commanded an Infantry Brigade and an Infantry Division. He served in a plethora of key operational staff appointments including as the Chief Operational Staff Officer of an Infantry division. General Muniruzzaman served as a faculty member at the Defence Services Command and Staff College (DSCSC) and has lectured at the Armed Forces War College and the National Defence College in Dhaka. He had the distinction of serving as the Military Secretary (Principal Military Advisor) to the President of Bangladesh. He later served as the Director General and CEO of the Bangladesh Institute of International and Strategic Studies [BIISS] under the Ministry of Foreign Affairs. He has been an appointed as a Lifetime Honourary Advisor to the board of the institute. He was part of and led a number of military delegations to various countries and NATO exercises.
General Muniruzzaman is an experienced peace keeper, he has taught t h e subject as a faculty member and has been a practitioner in the field. He was also instrumental in the establishment of the Bangladesh Institute of Peace Support Operations Training (BIPSOT). He was a member and head of the country contingent to United National Transitional Authority in Cambodia ( UNTAC) and represented UNTAC in Thailand. During that tenure he worked very closely with the Ministry of Foreign Affairs of the Kingdom of Thailand, Headquarters of the Royal Thai Army and other government departments in Thailand. He also had the distinction of heading the post-election UN Stablisation Mission in Cambodia (established under UN Security Council Resolution 880-1993). In his role as Chief of the mission, General Muniruzzaman monitored the political and security stability situation of the country and acted as a link between the government of Cambodia and the UN Secretary General's office in New York.
General Muniruzzaman established the Bangladesh Institute of Peace and Security Studies (BIPSS) in 2007 upon his retirement from the Army. BIPSS focuses on the whole spectrum of security issues – traditional, non- traditional and trans-national security issues.
General Muniruzzaman is also the current Chairman of the Global Military Advisory Council on Climate Change (GMACCC), a global advisory body of over 30 serving and retired General and Flag officers drawn from all continents. He is also an advisor on Climate Change and Energy Security at the G-20 consultative Process. He is a frequent speaker on international security and policy issues in the international conference and lecture circuit. He has spoken at a number of major international conferences across the world including IISS Asia Security Summit, Global Strategic Review, World Security Conference among others. Most recently he attended the Central and South Asia summit on Countering Violent Extremism in Astana, Kazakhstan. He has also been a resource person in a number of conferences on HADR issues organised by the United States Pacific Command. He sits on the board of the Council for Asian Transnational Threats Research (CATR). He was also selected to be a part of the core group for the formation of United Nations World Security University. In 2011 he was a Visiting Senior Fellow at the Peace Research Institute of Oslo (PRIO).
General Muniruzzaman has a wide training and education background. He is an alumnus of the National University of Bangladesh, National Defence College, Malaysian Armed Forces Staff College, US Naval War College,Asia Pacific Center for Security Studies [APCSS] in Hawaii and the John F Kennedy School of Government at Harvard University. In 2014, he was awarded the APCSS Alumni Achievement Award. He is also an alumnus of the Near East and South Asia Center and the National Defense University.
General Muniruzzaman frequently appears on local and international media on issues related to South Asian security. In 2013, he testified before the Foreign Affairs Committee of the US House of Representatives during a special hearing on Bangladesh.Earlier this year,General Muniruzzaman is a 'Global Expert' with Wikistrat and has led a number of global simulation studies.He has published numerous articles,special reports and chapters in edited books.