Dhaka, Bangladesh

In the backdrop of emergence of Terrorism as one of the most critical challenges facing the national security apparatus of most countries in the world today, Bangladesh Institute of Peace and Security Studies (BIPSS) held a five-day long international workshop on Counter Terrorism Capacity Building (CTCB) from March 21-25, 2010, at Dhaka Sheraton Hotel. The workshop was the second of a series supported by the British High Commission, Dhaka. The workshop offered rigorous training packages aiming at bolstering the capacity of the people at various levels engaged in the business of countering terrorism in Bangladesh.
For more information on CTCB workshop please click here
CTCB 2
Roundtable on "Media-Military Relations in the Media Era"
Roundtable on "Critical Infrastucture Protection and Security"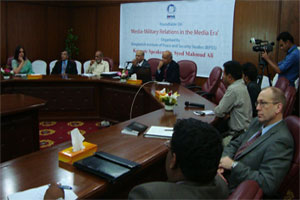 Bangladesh Institute of Peace and Security Studies (BIPSS) will held a Roundtable on " Media-Military Relations in the Media Era" on 21 March 2010 at Dhaka Sheraton Hotel. Dr. Syed Mahmud Ali, a renowned author and former Senior Editorial Coordinator, BBC World Service, London, will deliver the key note paper. The roundtable will focus on key aspects of the current state of media-military relations –its different professional and political challenges and suggest ways of developing a model. The event will bring together subject experts, renowned journalists, editors of premier dailies, think tanks, analysts and high-ranking government officials.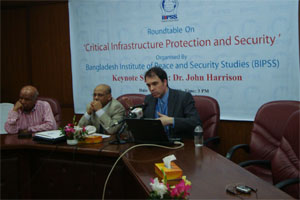 Bangladesh Institute of Peace and Security Studies (BIPSS) will hold a Roundtable session on " Critical Infrastructure Protection and Security" on 22 March 2010 at Dhaka Sheraton Hotel. The event will highlight all aspects of infrastructure protection and security in Bangladesh. Eminent security expert, Dr. John Harrison will address the event as a key note speaker. Dr. Harrison specialises on all aspects of security and is the Associate Editor of the Journal of Transportation Security. He is an Assistant Professor at the S. Rajaratnam School of International Studies and Head of Terrorism Research at the International Center for Political Violence and Terrorism Research. The session will be attended by subject experts, relevant stakeholders, analysts, and think tanks.

China-South Asia Relations: A Dynamic Contour
We are currently at a very critical juncture of history. The rise of China coincides with the evolving nature of South Asia's geopolitics and its internal dynamics. Despite the global financial crisis, China has been able to maintain its economic growth momentum. The phenomenal and robust growth has given China a strong economy. South Asia is also in transition- India is rising, Indo-Pak rift still continues, fight against terrorism in Afghanistan and Pakistan is on. At the same time, Sino-South Asian exchanges are seemingly at an all-time-peak now. Sino-South Asia relations and the changing contours depend much on South Asia's internal dynamics. In light of the stated premise, it is very important to study and analyse China's relations with major South Asian countries. This brief is aimed at illustrating China's political, economic and defence cooperation with four South Asian countries- Bangladesh, India, Myanmar and Pakistan.
Click here for complete report. Past Issues

Bangladesh Institute of Peace and Security Studies (BIPSS) and Strategic Foresight Group (SFG), India, organised the Second International Workshop on Himalayan Sub-regional Cooperation for Water Security in Dhaka on 15-16 January, 2010. This is part of a long-term process to build confidence and cooperation between countries that make up the Himalayan River Basins.
This process is supported by the John D. and Catherine T. MacArthur Foundation, USA.
25 distinguished water experts from India, Bangladesh, China and Nepal, including former ministers of Water Resources of India, Bangladesh and Nepal participated in the Workshop.
The recent Indo-Bangladesh summit has brought about a number of significant changes in the relations between the two countries in terms of cooperation level. Some of these developments also involve regional and strategic implications. President BIPSS in his commentary published on 27 January, 2010, in the Bengali weekly newspaper- Weekly Budhbar- has outlined those implications.
Click here to read the complete commentary.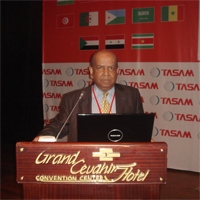 BIPSS has joined a newly formed Network of the Think Tanks of the Islamic countries. Prominent Think Tanks from all most all the Islamic countries have become member of this network. The formal announcement of the launching of the Network was made through a large International Conference in Istanbul, Turkey in January, 2010. The Turkish President inaugurated the Conference and the heads of the member Think Tanks and academics of the Islamic countries attended the events. President BIPSS, Major General ANM Muniruzzman (Retd.) too attended the meeting. He also chaired a session and delivered a talk on conflict resolution during the conference.
A new network of Think Tanks has been formed to work with the children born out of war- one of the many facets of conflict and its impact on the society. Children born out of war are viewed with suspicion and fear in the society and they face serious problems in terms of social integration. BIPSS has joined the network and the network, based in Germany, will address the challenges faced by children born of war- including sexual violence inflicted by law enforcement agencies and Peace Keepers.
Modern battle space management with retaining the optimal effectiveness of the forces has become an issue of serious concern among the modern Army today. Considering the future warfare will be digitised in which mere execution of programmes within the functional stovepipes of C2 will not able to meet the mission requirements of the future warfare; the Command, Control, Communications, Computers, and Intelligence (C4I) has been added in the defense strategy of any militarily developed countries. It is within this context an international conference was held in Singapore on February 2010. Major General ANM Muniruzzaman, President, Bangladesh Institute of Peace and Security Studies (BIPSS) presented a lecture on "Improving Situational Awareness of the Battlefield to Enhance Soldier C4I Capability" at the conference