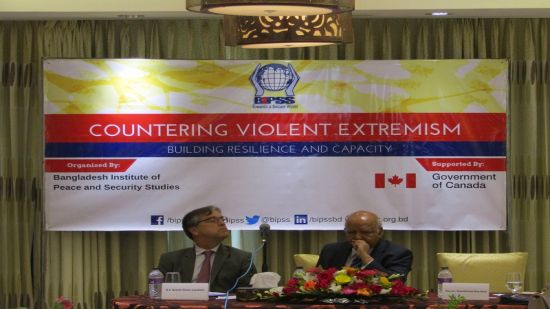 On March 8, 2017, Bangladesh Institute of Peace & Security Studies (BIPSS) organised a day long national conference on Countering Violent Extremism: Building Resilience & Capacity. The conference begun with BIPSS President Major General ANM Muniruzzaman, highlighting the need for strong policies regarding CVE here in Bangladesh: key areas of focus being: Narrative, Youth, Prison and Cyberspace.
The keynote presentation was delivered by the Associate Editor, Defence & Strategic Affairs, for The Daily Star Brig. General Shahedul Anam Khan on "Countering the Extremist Narrative." H.E. Benoit-Pierre Laramee, High Commissioner to the High Commission of Canada in Bangladesh graced the event as the Chief Guest.
Professor Abu Zayed Mohammad, Research Fellow at BIPSS & Shafqat Munir Research Fellow at BIPSS and Bangladesh Centre for Terrorism Research (BCTR) presented on Prison Radicalisation and Youth Radicalisation in the scope of Cyberspace respectively.
The conference also featured engaging Q/A sessions and a tabletop exercise that created an interactive discussion on the various aspects of strategy and policy regarding #CVE from a nuanced participatory demographic.