Australian High Commissioner visits BIPSS
New Australian High Commissioner Dr. Justin Lee visited BIPSS on 12 February 2009 accompanied by the Deputy High Commissioner of Australian High Commission.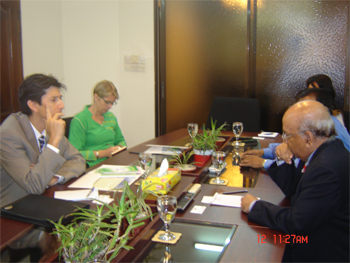 President of BIPSS, Major General Muniruzzaman gave H.E. a brief on past, current and future projects of BIPSS. Ambassador showed his interest in maritime challenges of the country, terrorism and government's counter terrorism strategies. H.E. also wanted to know the structures and activities of the joint Task Force that our newly elected Prime Minister mentioned. President discussed about the security challenges of Bangladesh in mid and long terms.