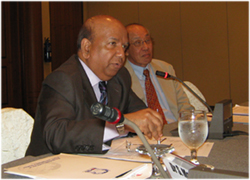 First Roundtable on Singapore-Bangladesh relations Held
BIPSS and Institute of South Asian Studies (ISAS, Singapore) jointly organized first roundtable dialogue on Singapore-Bangladesh Relations on 25 May, 2009 in Singapore.
A four member delegation from Bangladesh led by President BIPSS, Major General ANM Muniruzzaman (Retd.), went to visit Singapore in the month of May 2009. The dialogue topics encompassed a wide range of issues that are of interest for both the countries; Singapore and Bangladesh. Both the institutes presented papers on domestic economic developments (of respective countries), regional security architecture, evolving regional relations in South and Southeast Asia and future of regional groupings in South and Southeast Asia (SAARC, ASEAN).
The roundtable dialogue will essentially play a noteworthy role in strengthening Singapore-Bangladesh relations and furthering regional cooperation.
Presentations of the Roundtable
by Bangladesh Delegates
by Singapore Delegates
BIPSS Report on the Roundtable
Tuesday, May 19, 2009