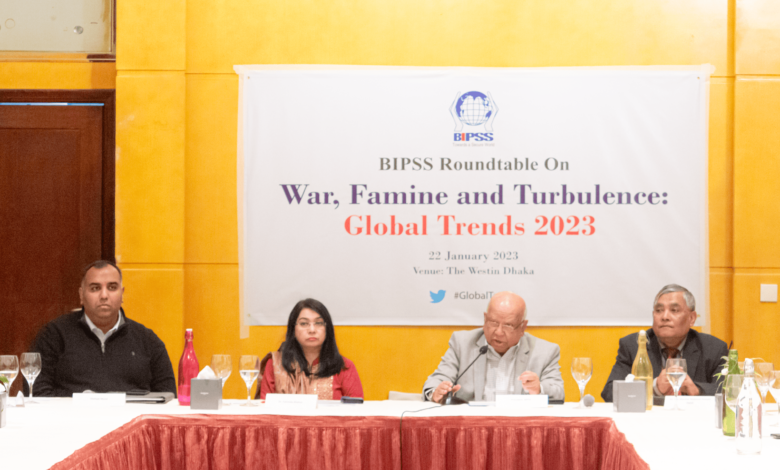 War, Famine and Turbulence: Global Trends 2023
Bangladesh Institute of Peace and Security Studies (BIPSS) recently hosted a Roundtable discussion titled, 'War, Famine and Turbulence: Global Trends 2023' at the Westin Dhaka. The discussion was moderated by Major General A N M Muniruzzaman, ndc, psc, (retd.), President of BIPSS. The round table had an expert panel comprising Dr Fahmida Khatun, Executive Director of Centre for Policy Dialogue (CPD), Air Vice Marshall Mahmud Hossain (retd.), former ambassador and distinguished expert, and Mr Shafqat Munir, Head of BCTR and Senior Research Fellow at BIPSS.
The discussion was attended by Ambassadors and Senior Diplomats based in Dhaka, Government Officials, Defence Personnel, Academics, Editors, Journalists, Scholars and Students. They talked about the trends and challenges facing the world and Bangladesh in 2023 focusing on the economic and security trends including- grim economic growth, rising inflation, uncertain future of Russia-Ukraine war, energy crisis, food crisis, upcoming election turbulences, resource crunch, regional security issues and disruptive technologies.
The roundtable ended with lively interaction with the participants.
War, Famine and Turbulence: Global Trends 2023