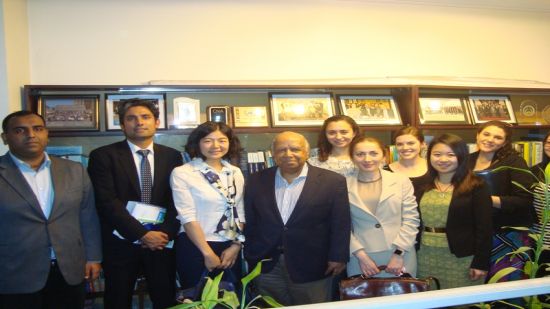 Student delegation visited BIPSS from ERE Programme at SAIS, Johns Hopkins University, USA.
A delegation of Faculty and Students from Environment, Resources and Energy (ERE) Programme at Paul H Nitze School of Advanced International Studies (SAIS), Johns Hopkins University, USA visited BIPSS on 19 January. Delegation was led by Visiting Research Fellow of SAIS, Anshul Rana. President, Bangladesh Institute of Peace and Security Studies (BIPSS) and Chairman, Global Military Advisory Council on Climate Change (GMACCC) Major General A N M Muniruzzaman, ndc, psc (Retd) briefed them on "Security Implications of Climate Change". Presentation was followed by lively question and answer session.
The visiting delegation was briefed about BIPSS and GMACCC's participation in COP21 Climate Summit in Paris in December 2015.They were also briefed about other climate change related activities of the institute.