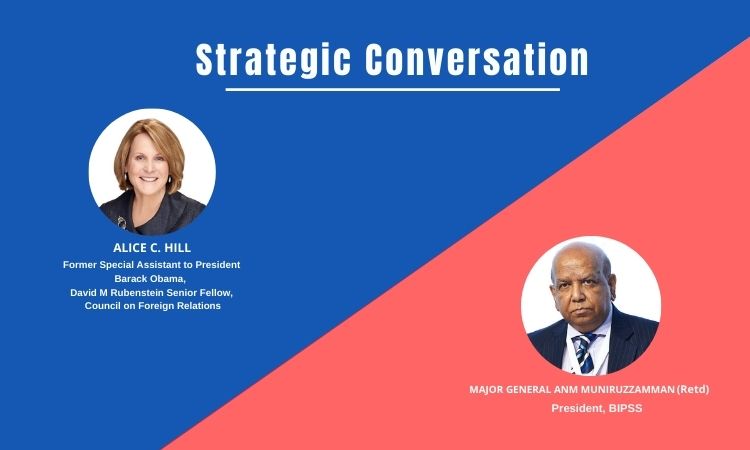 Strategic Conversation With Alice C Hill
As part of BIPSS' virtual discussion programme on key global issues, a new series has been launched titled 'Strategic Conversation'. Recently, President, BIPSS Major General Muniruzzaman (Retd). spoke to Alice C Hill, David M Rubenstein Senior Fellow at the Council on Foreign Relations (CFR). Ms. Hill was formerly a Special Assistant to President Barack Obama and a Senior Director at the National Security Council in the White House.
A number of key issues were discussed including, Indo Pacific Strategy, Sino-US relations, upcoming US Presidential elections, future of climate and national security, pandemics and future bio-threats, energy transition among others. In her remarks Ms. Hill applauded the very important leadership role played by Bangladesh in Climate Change adaptation and also the role played by President, BIPSS in mainstreaming the issue of Climate Security internationally. It may be mentioned that General Muniruzzaman is the current Chairman of the Global Military Advisory Council on Climate Change (GMACCC).
Alice Hill — Bio: https://www.cfr.org/expert/alice-c-hill
Please watch the full video: https://youtu.be/rsOO-fmcGps