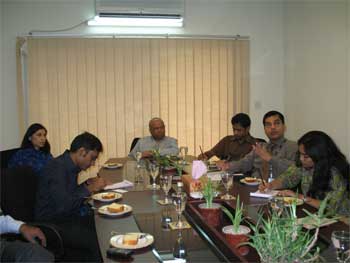 Roundtable on "Climate Change and Conflict in Bangladesh"
The Climate Change Cell of Bangladesh Institute of Peace and Security Studies organized a Roundtable discussion on "Climate Change and Conflict in Bangladesh", on Thursday, 18 June, 2009 at 11:00 a.m. in the Conference room of the BIPSS centre.
The keynote presentation was delivered by Mr. Matthijs van der Hoorn of Radboud University Nijmegen, Netherlands. Mr. Hoorn, during his presentation, examined the consequences of climate change that may cause violent conflict in Bangladesh. He put together academic debates, empirical and present evidences of climate change and analyzed the prevailing social tensions to illustrate whether the cumulative impact will lead towards inter/ intra state conflicts.
The session was presided over by President BIPSS, Major General ANM Muniruzzaman (Retd.) and was attended by professionals and researchers from INGOs, Think Tanks and Climate Change watchdog groups.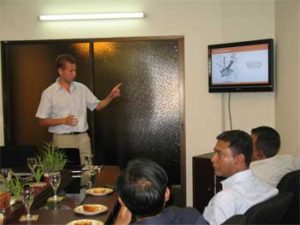 The Key Note Presentation was followed by a lively question and answer session and came up with a number of very good recommendations from the audience to address the issue of "Climate change and conflict in Bangladesh" effectively. Mr. Hoorn is currently working with BIPSS in Dhaka on the issues of security dimensions of climate change in Bangladesh.
KeynotePresentation of the roundtable …
In the sidelines of the two conferences,President BIPSS met and interacted with a number of senior officials and heads of other institutes from different countries. General Munir also attended the official launch of the Asian Security Initiative in Singapore.