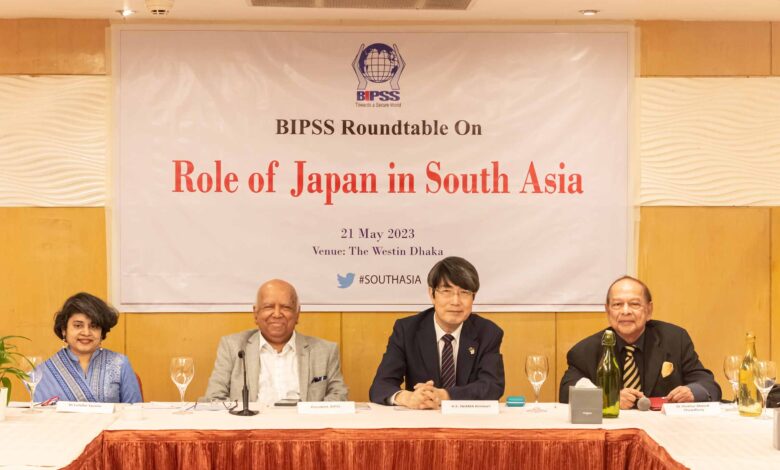 Role of Japan in South Asia
Bangladesh Institute of Peace and Security Studies (BIPSS) organized its May Roundtable discussion on the topic, 'Role of Japan in South Asia', at the Westin, Dhaka. Ambassador Iwama Kiminori of Japan to Bangladesh graced the event as the Special Guest, which also witnessed the attendance of Ambassadors, foreign diplomats, government officials, journalists, and academics. The session was moderated by Major General A N M Muniruzzaman,ndc, psc, (retd.), President of BIPSS. The expert panel included Dr Iftekhar Ahmed Chowdhury, Distinguished Fellow, BIPSS, and Dr Lailufar Yasmin, Professor and Chairperson, Department of International Relations, University of Dhaka.
In his opening remarks, Major General A N M Muniruzzaman highlighted the evolving role of Japan in South Asia, as it seeks to diversify beyond its economic role in the region to encompass both economic and strategic partnerships. H. E. Iwama Kiminori highlighted the importance of incorporating South Asia in Japan's foreign policy. "As the center of gravity of the world economy shifts towards the region, South Asia needs to cease the momentum to enjoy more economic growth," he stated. Dr Iftekhar Ahmed Chowdhury traced the historical development of Japan's foreign policy and discussed the pivotal role Japan has played in South Asia. Dr Lailufar Yasmin stressed the need for regionalism and connectivity as well as enhanced people-to-people exchanges.
The discussion was followed by a vibrant interactive session.
Role of Japan in South Asia