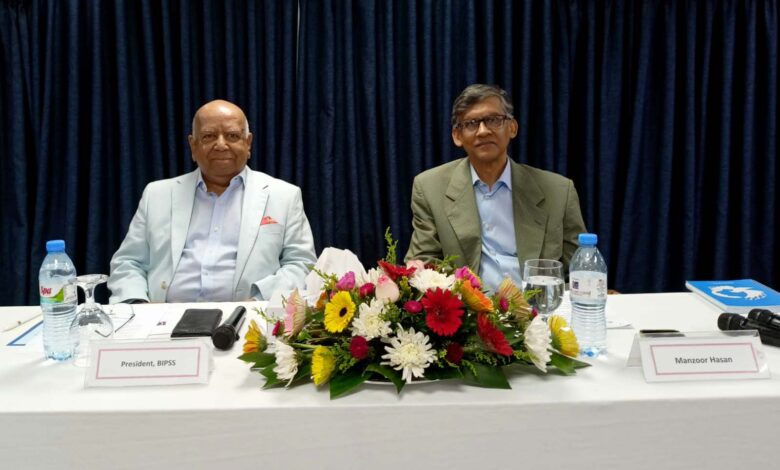 Rohingya Refugee Crisis: Restrategising the Future
BIPSS recently organized a lecture club discussion on the topic 'Rohingya Refugee Crisis: Restrategising the Future'. The event was moderated by Major General A N M Muniruzzaman (Retd.), President of BIPSS. The keynote speaker for the event was Barrister Manzoor Hasan OBE, Executive Director, Centre for Peace and Justice, BRAC University. The attendee included- the Ambassadors, Senior Foreign Diplomats based in Dhaka, former Chief of Air Staff, former Foreign Secretaries, Heads of International Organizations, former Senior Military and Civil Officials, Editors and members of Academia among others.
The Rohingya refugee situation has been steadily deteriorating, seemingly with no end in sight. Concern mounts as other crises grip different parts of the world, diverting international attention away from these displaced persons. 'What next?' is the question that looms large. Mr Mazoor Hasan has suggested that in order to move towards a solution to this crisis we have to think outside of the box. Bangladesh's experience and hospitality regarding the Rohingyas has been outstanding but the time has come to restrategise and come up with new ideas. He has suggested to build up on the Kofi Anan report and promote regional collaboration to solve the crisis. He also suggested building cooperation with different actors in Rakhine state where the Rohingyas will ultimately return.
After an extensive discussion on the subject matter, which ensued after the insightful speech by the speaker, there was an interesting question and answer session. The guests raised questions if negotiation and cooperation with Myanmar is actually possible.
News Link:
https://unb.com.bd/category/Bangladesh/policymakers-must-think-out-of-box-develop-pragmatic-solutions-to-rohingya-crisis-bipss-president/112436
https://en.prothomalo.com/bangladesh/6sp3xyjkp1
Rohingya Refugee Crisis: Restrategising the Future