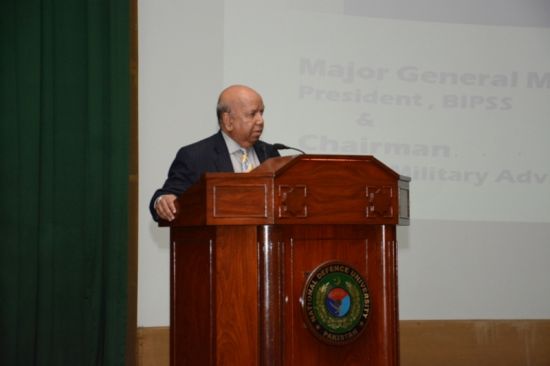 President BIPSS speaks at National Defence University, Islamabad
President BIPSS Major General Muniruzzaman (Retd) recently spoke at the National Defence University, Islamabad at the invitation of the President, NDU. He delivered a lecture on Climate Security and its impact on national and regional stability. The lecture was attended by members of the armed forces and senior members of different ministries of the government and 45 allied participants from all over the world.
President BIPSS also briefed them on the role and function of the Global Military Advisory Council on Climate Change (GMACCC). General Muniruzzaman is the current chair of GMACCC. During his visit he also spoke at a seminar on Climate Change and Global Security organised by Henrik Bol Stiftung of Germany.