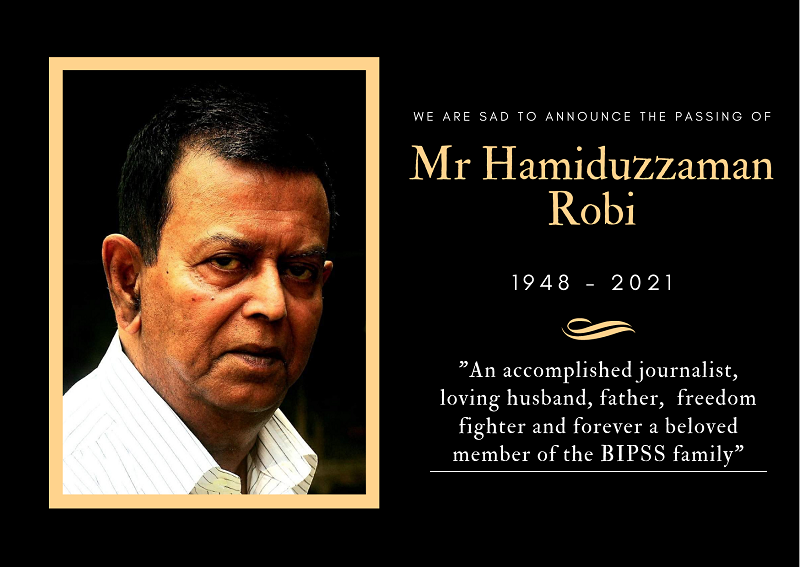 In Memory of the late Mr Hamiduzzaman Robi
The Bangladesh Institute of Peace and Security Studies deeply mourns the passing away of one of its founding members, Mr. Hamiduzzaman. He had been a part of the institute since its inception in 2007. A journalist by profession, he started his career at the national news agency, Bangladesh Sangbad Sangshta (BSS) in 1972. Over the course of 34 years with BSS, he served as Public Relations Officer to the Prime Minister Mr. M Mansur Ali, Special Correspondent at the President's Secretariat, Special Correspondent for Parliamentary Affairs, Chief Reporter and eventually rose to become the Managing Editor of BSS. He also worked for the Japanese national broadcaster NHK as their local correspondent in Dhaka. From 1989 to 1991 he served as the General Manager (Public Relations) for Biman Bangladesh Airlines. During his stint with the national flag carrier, he undertook several initiatives including a new advertisement campaign and a revamped inflight magazine.
As a student leader, he played an important role in the movement for democracy in 1969 at Rajshahi University. As a freedom fighter, he worked with the Bangladesh Provisional Government (Probashi Sarkar) in Calcutta during the glorious war of liberation.
After his retirement from BSS, he was a member of the founding team of BIPSS and made an important contribution in creating a new independent security think tank. He represented BIPSS at a number of international conferences and was also instrumental in organising several major events hosted by BIPSS in Dhaka.
All members of Team BIPSS express their sincerest and most heartfelt condolences to the family of the bereaved. We also gratefully acknowledge his tremendous contribution to the organisation over the years. His memories will always remain an integral part of the BIPSS family.