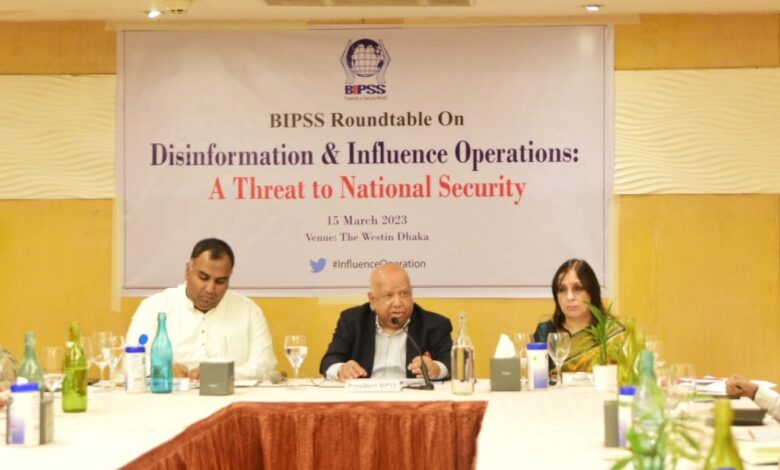 Disinformation and Influence Operations: A Threat to National Security
Bangladesh Institute of Peace and Security Studies (BIPSS) recently organized a Roundtable discussion titled, 'Disinformation and Influence Operations: A Threat to National Security', at the Westin Dhaka. The discussion was moderated by Major General A N M Muniruzzaman, ndc, psc, (retd.), President of BIPSS. The speakers of the roundtable were- Ms Ayesha Kabir, Head of English Web, Prothom Alo and Mr Shafqat Munir, Head of BCTR and Senior Research Fellow, BIPSS
The discussion was attended by ambassadors and senior diplomats based in Dhaka, government officials, defence personnel, academics, editors, journalists, scholars and students.
The speakers recognized that every day and every moment, everyone is impacted with all sorts of information from all over the globe as this is the age of information and, unfortunately, of disinformation too. Unless we are alert of the risks involved with disinformation, with the rise in influence operations, these can pose a serious national threat. The state no longer enjoys monopoly over information. Since the behaviour and policies of states are increasingly information-based, they have also become information vulnerable. National security of the state is today linked to the information.
The roundtable ended with lively interactive session with the participants.
News Links:
Disinformation and Influence Operations: A Threat to National Security