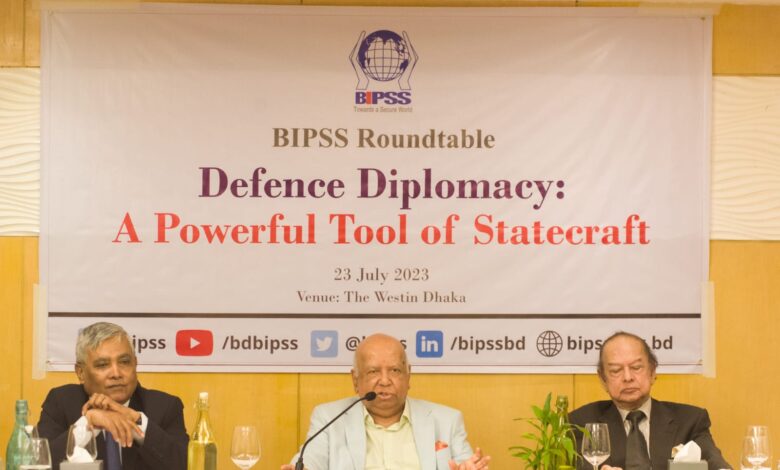 Defence Diplomacy: A Powerful Tool of Statecraft
Bangladesh Institute of Peace and Security Studies (BIPSS) recently hosted a roundtable on 'Defence Diplomacy: A Powerful Tool of Statecraft' at the Westin Dhaka. The event was moderated by Major General A N M Muniruzzaman, ndc, psc (retd), President, BIPSS. The speakers of the event were Dr Iftekhar Ahmed Chowdhury, Distinguished Fellow, BIPSS and former Foreign Advisor, Ministry of Foreign Affairs, Government of Bangladesh and Air Vice Marshal Mahmud Hussain (retd), former Ambassador and Distinguished Expert, Bangabandhu Sheikh Mujibur Rahman Aviation and Aerospace University (BSMRAAU). Ambassadors and diplomats based in Dhaka, government officials, defense personnel, academician, journalists, and scholars appeared at this insightful event of BIPSS.
'In an increasingly interconnected world, where global challenges and threats transcend borders, defence diplomacy has emerged as an indispensable tool for maintaining peace stability', said Major General ANM Muniruzzaman in his opening remarks at the roundtable. For Dr Iftekhar Ahmed Chowdhury, there is no universal definition of defense diplomacy in international relations as it adjusts differently in different circumstances. According to Air Vice Marshal Mahmud Hussain, defence diplomacy as tool of statecraft is very significant for Bangladesh. Both the speakers agreed on the fact that, in case of protocol, it is wise to keep all the baskets open as overdependence in defense purchase can have a toll on Bangladesh.
The roundtable ended with an insightful interactive session.
Defence Diplomacy: A Powerful Tool of Statecraft