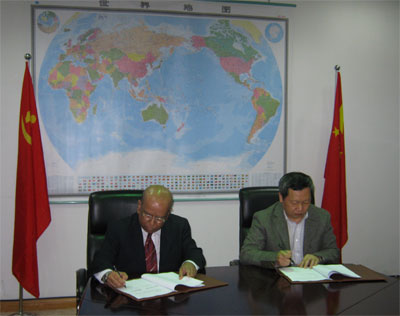 BIPSS-YDRC jointly affirm the "Kunming Statement"
The first BIPSS-YDRC Yunnan Bangladesh Cooperation Dialogue was held in Kunming, China on 15 October, 2009. BIPSS and Yunnan Development Research Centre (YDRC) of the Provincial Government sponsored the dialogue and it was attended by four member BIPSS delegationled by President BIPSS, Major General ANM Muniruzzaman (Retd.), scholars and government officials from YDRC, ForeignAffairs Office, Commercial Department, Communication and Transportation Department, Education Department, Tourism Administration, Cultural Department and Yunnan University.
Based on "Strengthening Bilateral Interaction and Promoting Pragmatic Cooperation in All-around Way", the attendees conducted detailed discussion on various issues ranging from communication, business,education, culture, tourism etc. The meeting was concluded by the joint declaration of " Kunming Statement". On 16 October, 2009, BIPSS delegation held an important meeting with the Senior Officialsof the Yunnan Provincial Government to discuss mutual and bilateral issues. Later, at the Provincial Government's Office, BIPSS and YDRC signed an institutional agreement to further the existing collaboration and cooperation.