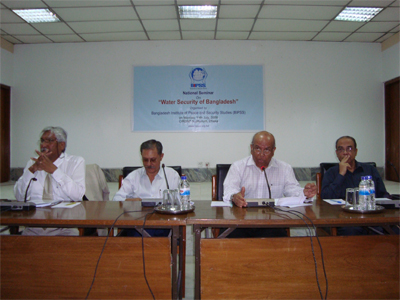 BIPSS Seminar held on "Water Security of Bangladesh"
The region of South Asiais densely populated and natural resource constraints, especially water resource, will pose severe security threats to the states. This may eventually lead to conflict in the region.
In light of the above,Bangladesh Institute of Peace and Security Studies (BIPSS) organised a seminar on "Water Security of Bangladesh"on 13 July, 2009 at CIRDAP Auditorium. Prominent water experts of the country- Dr. Atiq Rahman,Mr. Mahfuz Ullah and Coloner Mahmudur Rahman Chowdhury (Retd.)- presented papers at the seminar.The seminar was presided over by President BIPSS, Major General ANM Muniruzzaman(Retd.)
The event waslargely attended by foreign diplomats in Bangladesh,politicians,academicians, members of the civil society, researchers and journalists. Click the links below to download Seminar Papers and Power Point Presentation.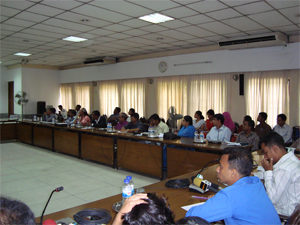 Media Coverage on the Seminar Photo Gallery