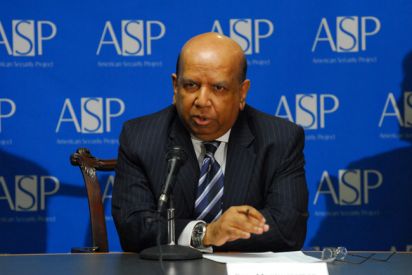 BIPSS adn ASP CO-HOSTED AN INTERNATIONAL CONFERENCE ON "BANGLADESH AT CROSS-ROADS" IN WASHINGTON DC, USA. 1st October 2013
Bangladesh Institute of Peace and Security Studies (BIPSS) co-hosted an international conference with an American think tank, American Security Project (ASP), on Bangladesh at Cross-roads. The conference took place in Washington D.C on the 1st October, 2013. It brought participants from senior US policy makers, media, practitioners and academics.ASP was established by Secretary Kerry, the current US Secretary of State and Secretary Hagel, current US Secretary of Defense, to study and analyze major international and security issues.
Heather Variava, Bangladesh Office Director of State Department, was the key-note speaker. Due to her experience of Bangladesh, her speech focused on the international implications of security and environmental threats that face Bangladesh.
The Conference comprised of four Sessions; delving in themes such as Political outlook of Bangladesh, threats of rising militancy and terrorism, Bangladesh Economic prospects and Bangladesh's relation with its neighboring countries.
Session one included current position of Bangladesh in the face of regional instability and conflict. The Issues considered in session one were an update on the current political situation, the current political impasse and potential for political confrontation, possibility of political instability, possible ramifications of political instability for Bangladesh and the wider region.
Second Session analyzed Bangladeshi terrorist groups and their transnational ties. The issues covered in this session were a status report and profile of existing terrorist groups in Bangladesh, Bangladeshi terrorist outfits and their regional connections, the possibility of new linkages in the post 2014 situation in Afghanistan, chances of a spill-over effect on Bangladesh, the emergence of Hefazat-e-Islam and its impact on state and society.
The next sessions looked at Bangladesh's economic prospects and challenges including its bilateral and multilateral trade partners. The topics that appeared in this session are whether Bangladesh is an emerging economic power, an update on Bangladesh's readymade garments sector, the state of the country's meeting international labor standards and obligations, US-Bangladesh bilateral trade relationship, TICFA, GSP, etc.
The final session focused on the regional cooperation, environmental threats and security. Areas covered in this session were Regional political environment and security implications impact of Climate Change on the region, regional cooperation and SAARC, China's relationship with South Asia with a special emphasis on Bangladesh, an outlook on Indo-Bangladesh relations.