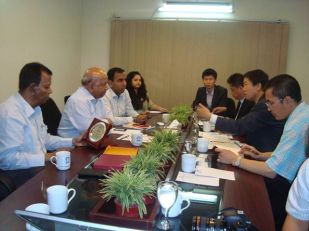 A DELEGATION FROM CHINA CENTER, 08 October 2013
A DELEGATION FROM CHINA CENTER FOR CONTEMPORARY WORLD STUDIES (CCCWS) PAID A VISIT TO BIPSS A delegation from China Center for Contemporary World Studies (CCCWS), paid a visit to Bangladesh Institute of Peace and Security Studies (BIPSS) on October 08, 2013. They had a fruitful discussion with President, BIPSS and other BIPSS researchers.
A presentation was made to them about BIPSS which they were highly interested in. President and researchers of BIPSS gave them an overview about the current security situation in Bangladesh. Both organizations have identified common areas of interest like Indian Ocean security, Bangladesh-China economic and developmental cooperation, prospect of people to people connectivity and tourism, physical connectivity through third country, prospect of relocation of some Chinese industries and investment in Bangladesh, China-Bangladesh trade and reduction of Chinese trade surplus. Both CCCWS and BIPSS have agreed to continue their communique and reiterated the will to work together in future.