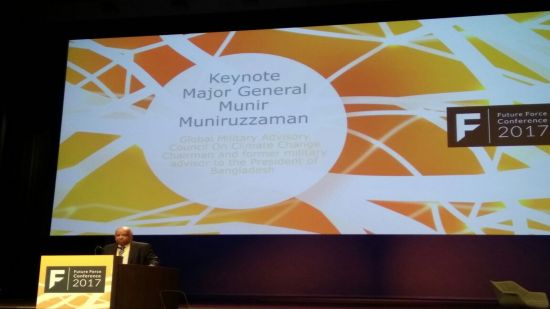 President BIPSS Major General Muniruzzaman (retd.) was invited by Mr. J.A Hennis-Plasschaert Defense Minister of the Kingdom of the Netherlands as a Keynote speaker in the Future Force Conference in the Hague. This major security conference organised by the Dutch Defence Ministry was attended by ministers, senior military leaders and policy makers from over 60 countries.
The conference looked at future scenarios of security and conflict. President BIPSS in his keynote address on "Emerging Threat Landscape: Implications for Global Stability and Security Ecosystem" focused on the hybrid nature of the evolving threats specially in the context of climate change impacts. He also gave a talk at a breakout session on "Resource Conflict", touching on the emerging competition and conflict over scarcity of key resources.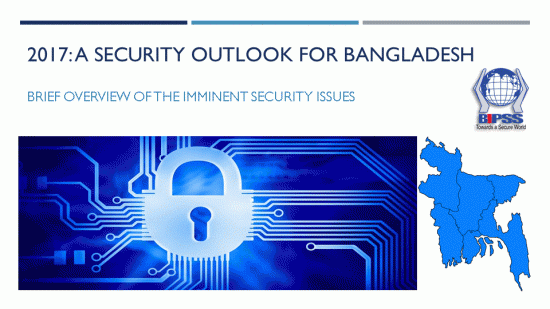 Security forecasting is a key area for BIPSS. Recently BIPSS has conducted a security overview for Bangladesh in 2017 and has identified a number of issues to watch.
Please Click Here to follow the infographic.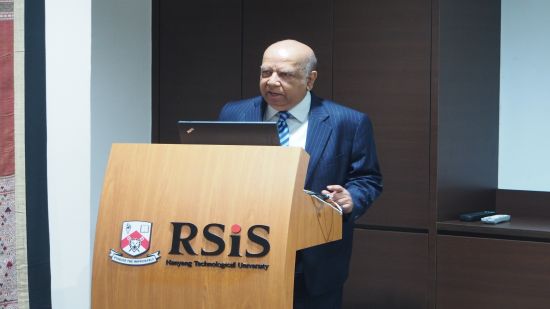 President BIPSS Major General A N M Muniruzzaman (Retd.) was invited by S. Rajaratnam School of International Studies (RSIS),Singapore as a Visiting Senior Fellow to deliver lectures and seminars at their Non Traditional Security Centre. He also interacted and advised the faculty of the RSIS's programme on Humanitarian Assistance and Disaster Relief (HADR). He delivered two seminars titled "Soldiers as Humanitarians –The Role of the Military in HADR Operations" and "The Digital Age of Humanitarian Aid –Harnessing the Power of Technology for HADR Operations" at RSIS which were attended by members of the faculty, senior officials from different ministries of the government of Singapore, media, diplomats and others.
General Muniruzzaman was also invited by the National Security Coordination Secretariat (NSCS) at the Prime Minister's Office to give a brief on regional security. He attended a briefing meeting at the Institute of South Asian Studies (ISAS) in Singapore. Major General A N M Muniruzzaman is authoring a policy brief on the Impact ofTechnology on HADR Operations which will soon be published by RSIS in Singapore.

On Monday, 23rd of January 2017, Bangladesh Institute of Peace and Security Studies (BIPSS) with the collaboration of Konrad Adenauer Stiftung (KAS) of Germany held a seminar on 'Security Implications of Climate Change: Focus on Bangladesh'.
The keynote presentation was made by Professor Abu Zayed Mohammed, Research Fellow, BIPSS and the session was moderated by President BIPSS Major General ANM Muniruzzaman (retd), the seminar was also addressed by Dr. Peter Hefele, Director, Regional Project, Konrad-Adenauer-Stiftung (KAS) and Ms. Ina F Islam, Assistant Director, ICCCAD, IUB.
The seminar stressed the importance of climate security as a threat multiplier implications and impact on water security, food security, livelihood security and so on.
BIPSS will be publishing a research study on this topic in the coming weeks. The event was covered live on Twitter and Facebook. The audience at the seminar comprised of ambassadors and senior diplomats, heads of international organisations, civil society leaders, academics, media and young professionals.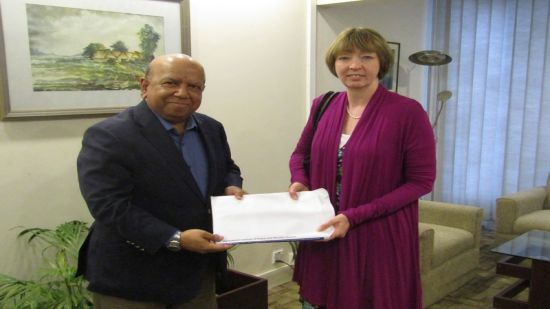 On Thursday January 5, 2017, British High Commissioner in Bangladesh, H.E Alison Blake visited BIPSS and called on the President of the institute, Major General A N M Muniruzzaman, (Retd).
During the visit, the High Commissioner was briefed on the activities of the institute and its research agenda. President of BIPSS and she also discussed ways of further enhancing collaboration between BIPSS and British organisations, and other issues of mutual interest.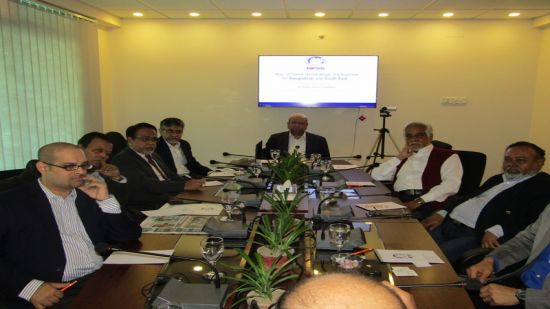 On 29th December, 2016 BIPSS held a roundtable on "Rise of China: Geostrategic Implications for Bangladesh and South Asia." Dr. Iftekhar Ahmed Chowdhury, Principal Research Fellow, Institute of South Asian Studies (ISAS) at the National University of Singapore was the keynote speaker for the event. Dr. Chowdhury was the Foreign Advisor (Foreign Minister) of Bangladesh from 2007 to 2009. Prior to that, Dr. Chowdhury has served as the Ambassador and Permanent Representative of Bangladesh to the United Nations in New York (2001-2007), and Geneva (1996-2001).
The round-table discussion was moderated by President BIPSS, Major General Muniruzzaman (retd.) The event was attended by Ambassadors and members of the diplomatic community in Dhaka, editors, former Bangladesh Ambassadors to China and academics. The keynote speech by Dr. Iftekhar Chowdhury was followed by a lively Question/ Answer session
To know more details, please click on this link:https://goo.gl/n0J3Yk or visit BIPSS Facebook page for Facebook Live videos of the event.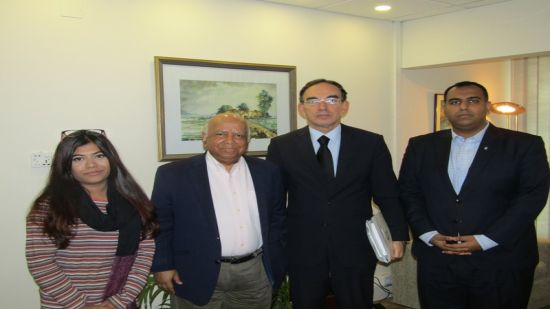 Mr. Konstantinos Vardakis, Minister Counselor, Acting Head of the Delegation of the European Union to Bangladesh, called on President BIPSS, Major General A N M Muniruzzaman (retd).
During his visit, he was briefed on various research and outreach activities of the institute. He was also informed about the extensive engagement that BIPSS has with EU member countries and organisations, especially about BIPSS' work on CVE. BIPSS is also active in the EU-Asia process.