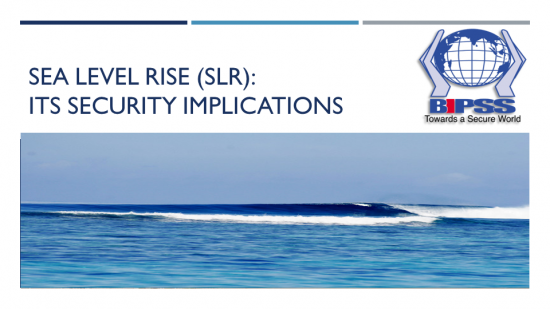 BIPSS Presents an overview of The Security Implications of Sea Level Rise (SLR).
Please Click Here to follow the Videos.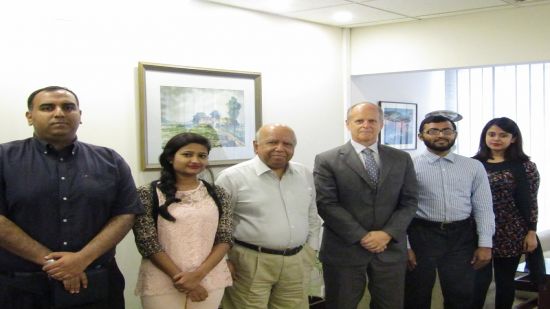 Mr. Robert Watkins, UN Resident Coordinator and UNDP Resident Representative in Bangladesh called on President BIPSS in his office. They discussed matters of mutual interest. Mr. Watkins was also briefed on the activities of BIPSS and its current research agenda.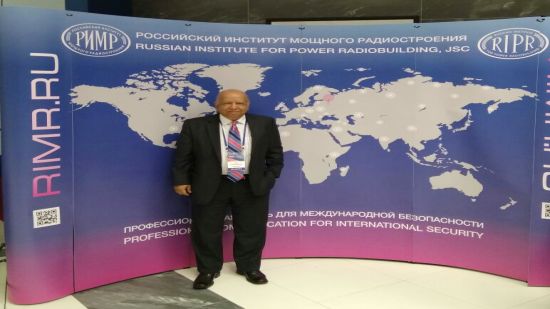 President BIPSS, Major General A N M Muniruzzaman, ndc, psc (Retd) was invited as a delegate to attend and speak at the Moscow Conference on International Security 2017 (MCIS 2017) in Moscow. This major yearly conference focused on global international security issues and specially paid attention to the civil war in Syria, recent developments in the Korean peninsula and other hot spot issues. General Muniruzzaman was asked to speak in the panel on Asia - Pacific Security. The conference was attended this year by delegations from 87 countries and other international organisations. Most country delegations included Defense Ministers, Service Chiefs and other senior members from the security establishments.

President BIPSS also delivered a talk at the Cernegie Moscow Center which was attended by senior academics, diplomats and policy makers. General Muniruzzaman's talk at the Cernegie Center was titled ' Asia - Pacific Security : Understanding the Threat Landscape '. It touched on all major traditional and non-traditional security challenges currently faced by the region.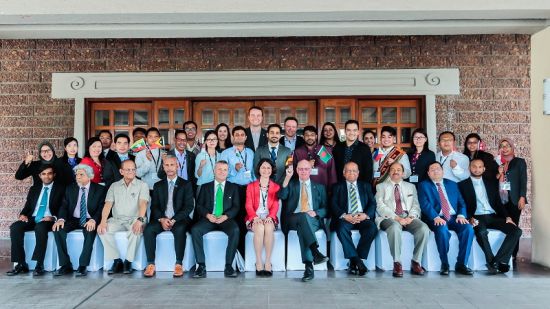 President BIPSS, Major General A N M Muniruzzaman, ndc, psc (Retd) recently attended the conference of Consortium of South Asian Think Tanks (COSATT) in Colombo, Sri Lanka. The conference theme was on Preventing Violent Extremism (PVE) and Countering Violent Extremism (CVE). General Muniruzzaman presented a paper in the conference titled 'The Battle of the Narratives : A Counter Narrative Strategy for South Asia". It was attended by COSATT members,senior South Asian journalists,diplomats and policy makers. He also attended a lunch discussion meeting with the visiting President of the German Bundestag in Colombo.

COSATT is composed of leading think tanks from South Asia and BIPSS is a co-founder of this important network. It also serves as a think tank platform of SARCC and its regional process.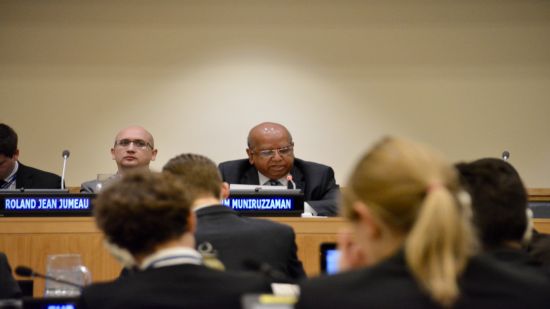 President BIPSS, Major General A N M Muniruzzaman, ndc, psc (Retd) was invited to give a briefing at a consultative meeting of the UN Security Council at the UN headquarters in New York. General Muniruzzaman briefed the Security Council on emerging threats as the Keynote Speaker. The briefing was especially focused on 'Sea Level Rise' and it's security implications'.The meeting was attended by all members of the Security Council including the P5 members and invited member states.
It may be mentioned that President BIPSS has also been involved in the 'Berlin Process' of the discourse on Climate Security since it was adopted in the Security Council. General Muniruzzaman was invited to this briefing also in his capacity as the current Chairman of the Global Military Advisory Council on Climate Change (GMACCC). Security Implications of Climate Change is a key area of research and analysis for BIPSS.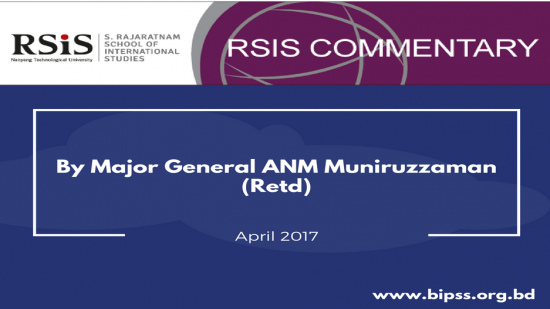 A commentary titled "The Digital Age of HADR: Harnessing Technology for Relief Operations" authored by President BIPSS Major General ANM Muniruzzaman (Retd), has been published by the S. Rajaratnam School of International Studies (RSIS), Nanyang Technological University (NTU), Singapore. 
To read Click Here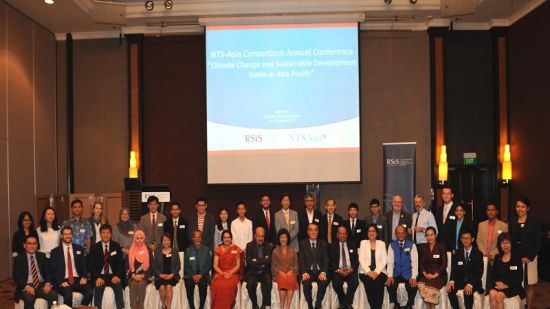 Major General Muniruzzaman (retd.), President of BIPSS, attended the annual conference of Non Traditional Security - Asia (NTS - Asia) in Singapore last week. The NTS - Asia is a network of leading think tanks and organisations in the Asia Pacific region who work on NTS issues with its Secretariat based in RSIS, Singapore. BIPSS is one of the founding members of the network. The theme of the conference this year was on "Impact of climate change on fulfilling the SDG goals". Major General Muniruzzaman (retd.) presented a paper on Water Security and its impacts achieving the SDG goals.He also presided over a session on Climate Security. The conference was attended by academics, senior policy makers, members of UN and other international bodies, amongst others.