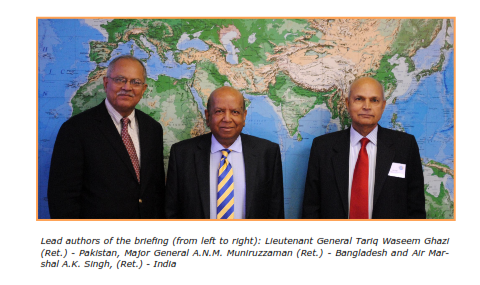 Bangladesh Institute of Peace and Security Studies (BIPSS) has published a Global Military Advisory Council on Climate Change (GMACCC) report titled "Climate Change and Security in South Asia". It is jointly authored by the Chairman and Members of the organization. The report was released by GMACCC earlier in The Hague.The authorsof the report are Major General A.N.M. Muniruzzaman (Ret.) (Bangladesh), Lieutenant General Tariq Waseem Ghazi (Ret.) (Pakistan) and Air Marshal A.K. Singh (Ret.) (India). South Asia is considered one of the most vulnerable regions in the face of climate change threats. The report carries significant analysis of the threat posed by climate change to South Asian region.

GMACCC is an international body of experts comprising of serving and retired Generals and Admirals from over 30 countries and its affiliated institutional members. GMACCC has global footprint and works with governments and all major International Organizations including UN, NATO, ARF and other organizations. It may also be mentioned that President BIPSS, Major General A.N.M. Muniruzzaman is the current Chairman of GMACCC.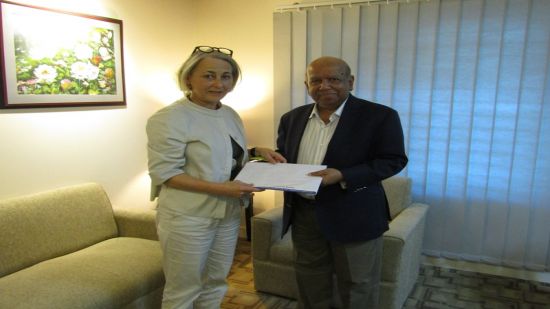 BIPSS Roundtable Discussion on "German Policy in Asia" was held on 16th October at the BIPSS conference room. Mrs. Sabine Sparwasser, Ambassador, Director General for Africa, Asia, Latin America, Near and Middle East at the German Ministry of Foreign Affairs in Berlin was the keynote speaker. The discussion was moderated by President BIPSS, Major General Muniruzzaman (Retd.) The event was attended by Ambassadors, diplomats and experts of global affairs in the country. The keynote speech by Mrs. Sabine Sparwasser was followed by a lively Question/ Answer session where the guests pointed out key issues.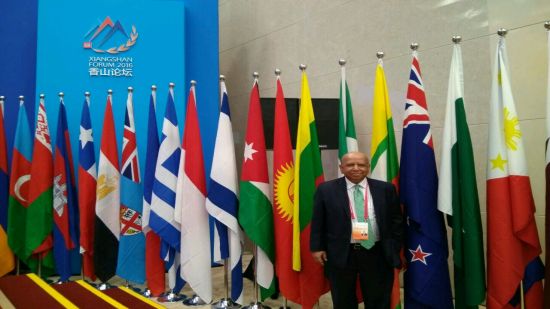 President BIPSS, Major General A N M Muniruzzaman (Retd) attended Xiangshan Forum 2016 as an invited speaker. The forum is the largest track 1.5 security policy conference hosted by China every year and brings together over 80 countries and international organisations. The focus of the forum this year was on the emerging security architecture in the Asia Pacific region. Also in the focus were the issues affecting international security and stability. In his presentation, General Muniruzzaman gave a trend analysis of non-state actor's likely pattern of activities in the coming years particularly highlighting the terrorists and ISIS group behavior. The conference was also addressed by Chinese Defence Minister and important Chinese and global leaders.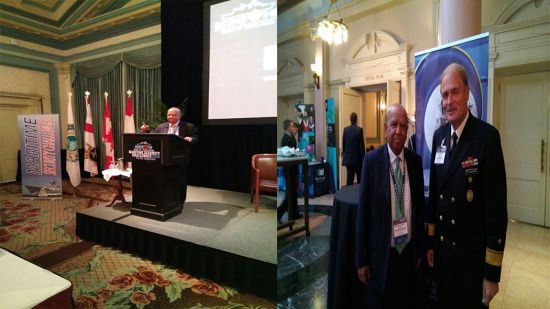 President BIPSS, Major General A N M Muniruzzaman (Retd), delivered a talk at the Maritime Security Challenge Conference in Victoria, Canada at the invitation of APCSS and Canadian Navy. In his talk General A N M Muniruzzaman highlighted the strategic changes that are emerging in the maritime domain. He specially pointed out the grave challenges that are coming from the Climate Change conditions. The conference, which looks at Pacific Sea Power, was attended by Senior Admirals, Policy Makers, Maritime Security Specialists and others from over 40 countries.

President BIPSS, Major General Muniruzzaman (Retd) has been invited to speak at the Pacific Seapower Conference - Maritime Security Challenges 2016 in Victoria, Canada. The conference will address major maritime issues of the Pacific region and is hosted by the Dept of National Defense, Canada. Gen Muniruzzaman in his address at the conference will focus on the strategic changes in the maritime domain.For more details: www.mscconference.com

BIPSS delegation, President BIPSS Major General A N M Muniruzzaman ndc, psc (Retd) and Mr Shafqat Munir, Research Fellow at BIPSS, visited Sri Lanka and attended a roundtable on 'Regional Security Perspective' at the Ministry of Defense, Sri Lanka organized by Institute of National Security Studies, Sri Lanka (INSS). The Round Table was chaired by Secretary of Ministry of Defense and was attended by Director General of INSS, Additional Secretary Defense of Sri Lanka, former Secretary of General of SAARC, delegates to Consortium of South Asian Think Tank conference and others.

It may also be mentioned that INSS has officially appointed President BIPSS to be a Distinguished Fellow of the Institute.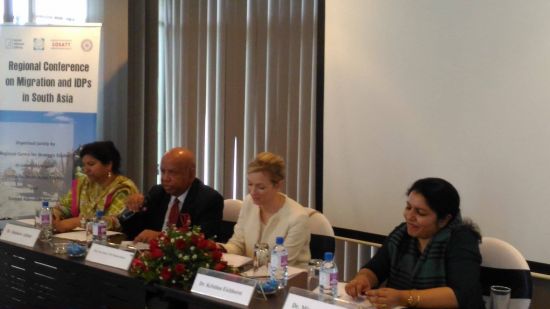 BIPSS President Major General A N M Muniruzzaman ndc, psc (Retd) attended the conference of Consortium of South Asian Think Tanks (COSATT) held in Colombo. The theme of the conference this year was Migration and IDPs in South Asia. President BIPSS addressed the conference on the first day and his talk was titled 'Migration Dynamics in South Asia : Push and Pull Factors'. He also presided over a session on 'Devising a Regional Response Mechanism'. He was accompanied by Mr. Shafqat Munir, Research Fellow at BIPSS who also made a presentation at the conference titled 'The Rohingya Refugee Crisis: A Case Study of Migration'
The conference was attended by all COSATT members. It may be mentioned that BIPSS is a founding member of COSATT which brings together leading think tanks from all South Asian countries and its policy findings/recommendations are always sent to the SAARC process.